Marin Century- from my Point of View
So, I worked the Marin Century mechanics station at the Nicasio Rest Stop. And boy did I keep busy getting people back on the road again. It was the usual stuff- derailleurs, brakes, flats, chain lube, headset adjustments etc……  I went non-stop for about 3 hours from 8am-11 am, with a line 4 bikes deep.The event was of course of huge success with no less than 2900 riders. And according to the paramedics, no serious injuries, just a few cases of road rash.
The weather couldn't have been better, hovering around 70 degrees the whole day.
Volunteers will have their won Century or Double Century this weekend. So I'll get in one last 100 miler to get tuned up for that.
For those who didn't ride this event, definitely sign up for next year. It's well organized, beautiful scenery and great food at the rest stops and at the finish.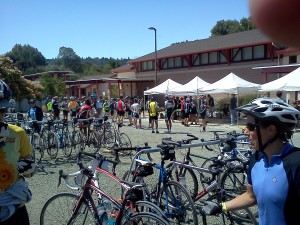 Thursday Evening social Rides
Starting Thursday's I'll be forming group rides around Paradise Drive in Tiburon. From Sausalito it's about a 25 mile loop and around 1.5 hrs. From the City, it's around 40 miles. Rides will start at 6pm where Sycamore Street meets the bike path in Mill Valley The pace will be what ever you want it to be.
If you have an idea for a route, let me know. One of my favorites is starting in Fairfax, up over Mnt. Tam via the Dam, and ending in Mill Valley.
For those interested to join the Paradise ride. Please email me at briansbicycle@gmail.com. Or call me @ 415 328 6480.
Get a free tune up on the Sausalito/Mill Valley bike path
I've been spending a few hours on Saturday's and Sunday's on the Sausalito/ Mill Valley bike path helping passerby riders with adjustment issues they might be having with their bikes. And the good news for riders is it didn't cost them a dime.
There's nothing worse than heading out for a long ride and 5 miles out, finding out you can't shift onto your smallest cog or having the chain fall off every time you shift, or my pet peeve, hearing an annoying rhythmic creak or tick ( see my video on noises).
I set up camp under a shade tree just across from the drinking fountain (in close proximity to the Jr. High School), and help many cyclists get back on the road, fixing issues that could otherwise ruin their day. Typically I saw both front and rear derailleur problems, brakes alignment and adjustment issues, spoke issues, bent derailleur hangers, improper bearing adjustments, and loose chain ring bolts just to name a few. Most bikes spent less than 2 minutes in or on the stand before they were back on the road again. I've worked on everything from Varsity Schwinn's to a full carbon Pinarello with Campy Super Record ( now there's a nice one).
I considered my presence to be of great help to those in need.  So stop on by and introduce yourself. And get a free mini tune-up.