Bicycle Repair – The world of cycling has change dramatically over the last couple decades. The wide variety of bicycle styles, materials and technology demands a new level of competency, skills, and thoroughness in bike maintenance.
Brian Green, founder of Bikes By Brian, ensures each cycle brought to him meets the highest and correct standard of repair necessary to ensure top performance, longevity, enjoyment and safety.
Whether you bring in a full carbon bike with carbon wheels and top end components, or a 30 year old beach cruiser, you can be assured your bike will receive a thorough and honest evaluation, followed by the necessary repairs, all done with lasts tool and technology available.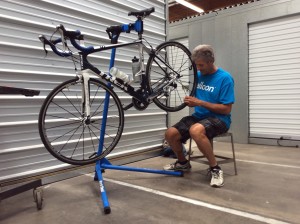 Bikes by Brian makes the following commitments to customers.
Fast turn around. Most jobs can be completed within 24 hours, and done by closing time the following day. If parts need to be ordered, expect a next day turn around once parts are delivered. Many minor adjustments can be done on the spot.
All work is approved by you first. Upon bringing your bike in, an estimate will be given and approved by you. Recommendations will be made to ensure safety and reliability. Potential consequences of neglecting such recommendations will be addressed. But, no work will be done or charged to you without your prior consent.
Communication. Through the process of your repair, you'll be notified if any unforeseen issues arise. All final work and invoices thorough discussed so customers can have first hand knowledge and understanding of each and every aspect of the repair.
Guarantee. All work is done to the satisfaction of customers. If you bring your bike home and finds it's not functioning properly after repair, bring it back and we'll gladly it's working properly, at no cost.
Rates – $60/hour. All services are based around this fee. As an example, a simple derailleur adjustment should 15 minutes. Based on $60/hr., that adjustment will cost $15.
Basic tune up-$80
inspect frame, wheels and components for wear/fractures.

Clean drive train
Adjust front and rear brakes
Adjust front and rear derailleur
True wheels
Tighten all bolts
Adjust front and rear hubs
Advanced tune up- $ 220
Everything from the basic tune up plus-
Install new cables and housing.
Install new chain and cassette
Install new tires
replace brake pads
The above includes labor only. All part are agreed upon ordered at an additional charge.
Premium Tune Up- $320
Everything from the advanced tune up plus-
Front and rear suspension overhaul.
Pivot point service
Bottom bracket and headset bearing overhaul or replacement
replace brake fluid for hydraulic disc brakes
The above includes labor only. All part are agreed upon and ordered at an additional charge.